Dramatic by nature,
creative at heart
Sweet Hospitality Group has been shaking things up on Broadway and beyond since 1986. How did we become the premier concessionaire for the NYC theater industry? Because we understand and love theater. We are theater people, literally.
SHG's team is comprised mostly of current, former or aspiring performing arts professionals. Actors. Dancers. Singers. Stage Managers. Writers. Designers. Directors. Musicians. Composers. Our talent pool is deep! And we focus all of our creativity into every aspect of service at our 18 Broadway and Off-Broadway theaters.
We Enhance the Experience
We are deeply committed to customer service. We were founded on the idea of making theater bar service more exciting and welcoming to theatergoers.
From top shelf spirits to an extensive wine list, to show-themed craft cocktails. From our custom intermission™ brand snacks to local baked goods, to souvenir show cups. Our innovative offerings and striking bar displays stir the excitement.
Our smiling, engaging and energetic staff pour on the charm. We serve not only drinks, but also style, charisma and a healthy dash of dramatic flair at every performance.
Simply put, our bars are a Dramatic Departure from Ordinary.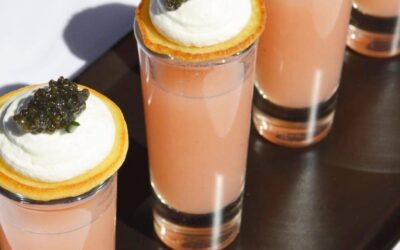 It's half way through the workweek and SHG has a little incentive to keep you working for the weekend...brunch! Nothing quite says the weekend better than having a fabulous cocktail and tasty treat in hand. So, what's our cocktail of choice for this weekend's...

"Since 1997, Sweet Hospitality Group has been responsible for all food and beverage service and has catered all of our productions and events at the New Amsterdam Theatre. Challenged with creating a diverse, healthy yet exciting menu with an emphasis of guest service, Sweet Hospitality Group continues to exceed all of our expectations."
– Dana Amendola, Disney Theatrical Group